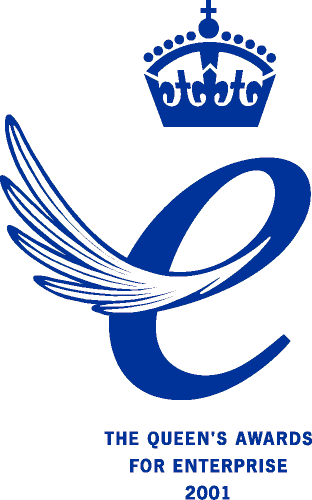 We are delighted and honoured that Her Majesty the Queen graciously approved the Prime Minister's recommendation that Malmic Lace Limited should be granted the Queen's Award for Enterprise in the International Trade Category 2001.
Our success in maintaining our place in the Textile Industry is due to the hard and dedicated teamwork of management and employees.
We would like to express our thanks to all our customers, suppliers and agents, without whose support this achievement would not have been possible.
From Financial Times April 22nd 2001.....
"While it is sad that Nottingham-based Malmic Lace has for the past 10 years been the only surviving lace manufacturer in the country, the British ability to adapt to changing circumstances is demonstrated by Malmic's export strategy.
Malmic - which wins an award for the first time - undertook feasibility studies on how to find new markets. The first result of research showed that, while the Scandinavian countries had lost most of their textile industry, the tradition of making handicrafts at home had survived, providing a market for laces and trimmings.
Established in 1965, Malmic changed its finishing procedures to suit this new market, producing smaller quantities that were wound on to cards and designing new labels.
Today, the company sells in nearly 40 markets including the US, Europe and Australia. Over the past three years, it has more than doubled its overseas earnings, which now represent half its total sales."